Our activities
We're proud to offer a wide range of activities that are available to our residents
Well-being and safety are number one at Blackberry pines RAL
Our residents are safe.
At BlackBerry Pines, we take the safety and well-being of our residents as our top priority. Our ratio of residents-to-caregivers sets us apart from "big-box" facilities that allow a very personal approach in offering:
safety and care provided 24 hours a day by our awake on-site staff.
home-cooked/dietician-approved meals and snacks that taste fabulous and are healthy.
personal assistance with ADLs (activities of daily living): eating, bathing, toileting, dressing, and walking.
social activities and exercise programs
access to our residents either in-person, phone or video as needed.
full medication management at no additional cost.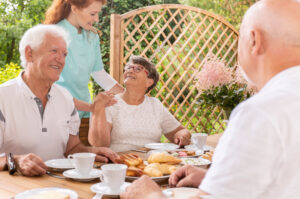 Music, Games, Bingo, Cards, Puzzles
Physical Activities – stretches, Walks, Exercise
Arts, Crafts, Flower Arranging, Shadow Boxes
Fireside – Marshmallows and Hot Cocoa
Painting, Coloring, Drawing
Contact us for more information
We pride ourselves in the care that we provide for our residents. At BlackBerry Pines, our residents are free to move around the home and engage with others and participate in the activities as they so choose.